Waste Tech Disposal is dedicated to environmentally sound solutions for its residents' solid waste management needs. Family owned and operated for three generations,where customer service and safety are paramount.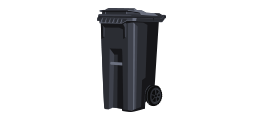 Residential
We offer easy and sustainable waste collection and recycling service to residents.
Residential
Services Include
Curbside Collection
Sort Free Recycling
Dumpsters
Temporary Roll Offs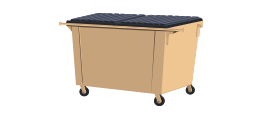 Commercial
Container services to fit your business' needs.
Commercial
Services Include
Dumpsters
Recycling Containers
Roll Offs
Compactors
Roll Off
Our Roll Offs are perfect for your next remodel, gargage clean out, new roof.
Roll Off
Services Include
Roll Off Sizes
10YD,15YD,20YD,40YD
Typical Usage
Refuse,Construction,Roofing
I needed a 30 yard dumpster to haul away kitchen remodel debris, like old cabinets, fixtures, and other materials. Waste Tech brought one out quickly, and I haven't had any issues with them. I'm still using them to complete my project, and so far, I can't find anything to complain about their service. I would definitely use them again. They're doing a very good job with me.
Waste Tech provided me with a 15 yard dumpster. Everything was fine with their service. They were very accommodating and let me keep the dumpster for a few more days. They told me to call them when I was done and that's what I did. They did a really good job and I would use their service again.
Needed a 15 yarder for a renovation project. I disposed of mostly sheetrock, lumber and related debris. Waste Tech provided us with the right size dumpster and they dropped it off on time. I didn't have any issues during the 5 days I had the dumpster, and they picked it up on time when it needed to be emptied. I'll use their service again if I have another project. They did very well and I do recommend their service.
I got a 30 yard bin for a kitchen remodel. I'm glad I chose Waste Tech; they were great. They came on time and put the dumpster where I wanted it placed. I can't complain about good service. I didn't have any issues during the 12 days I had it. Reasonable rates too. I'll definitely use their service again.
I am loving this new way to recycle. I am able to recycle much more and feel "greener". Love this new new Sort Free system, I am excited how easy the new bins are and how much more space they have.
Thanks Waste Tech
OUR DUMPSTER RENTAL SIZES
Waste Tech Disposal offers dumpster rental sizes for all types of trash removal projects, ranging from 10 to 30 cubic yards. Select a dumpster below to find the right size for your project.
What's Included

:
10 Day Rental PeriodDelivery FeePickup FeeApplicable Taxes
Search for Dumpster Rental Pricing in Your Area
Have you called multiple companies and received many different Dumpster rental prices ? Depending on the materials you are disposing of and the amount of time you need to get the job done, prices can vary. At Waste Tech, we offer simple no hidden cost flat-rate pricing! When you rent a dumpster from Waste Tech we have longer rentals and better terms than many of our competitors. Also, you are renting directly from the hauler, not an online broker.